Background K-ICM
Who is K-ICM?
K-ICM once known for his ability to play the organ virtuoso, appearing densely on social networking communities, now he is a professional Producer.
What is K-ICM's real name?
His real name is Nguyen Bao Khanh.
What year was K-ICM born?
He was born on July 12, 1999.
Where is K-ICM from?
He was born in Soc Trang.
K-ICM's personal Facebook?
https://www.facebook.com/khanh.nguyenkeyboard
The life and career of K-ICM
Nguyen Bao Khanh was born in a family with artistic tradition, since childhood he heard his father play the guitar, his second brother played the flute and his third brother played the drums. But at that time, Bao Khanh only liked to sing, until the age of 7 he started playing the piano and since then, playing has become Khanh's great passion. Around the age of 12, K-ICM went with his brothers to perform and play at weddings to gain experience.
Youth lived with passion, with the encouragement of his parents, resonated with the rise of social networks, Bao Khanh began to livestream playing the piano to both satisfy his passion and let people know him more. than. At the age of 17, Bao Khanh began to become famous on social networks when he livestreamed continuously for nearly 2 hours with 603,000 views, more than 14,000 shares and nearly 50,000 comments. With the ability to play a professional organ, Khanh often "causes storms" when covering hot songs on the market.
At that time, "The Saint of Piano" was not only densely covered on large facebook communities, but his talent was also known by many viewers through the program "Happy Lunch" on VTV6 and The Mysterious Person. on HTV7. Becoming famous and known by many people, now Bao Khanh (K-ICM) aspires to become a famous artist to truly deserve her talent.
K-ICM's journey to becoming an artist
He took the stage name K-ICM, where K stands for Khanh and ICM is the name of the company that Khanh is currently representing both in terms of image and everything. After that, Bao Khanh "fired the first shot" when launching his sad product in combination with Masew and Dat G.
"My Sadness" especially in the arrangement, easy-to-listen lyrics, quickly kept Top #3 Trending YouTube after a week of release, and the product was in the top 10 trending songs most prominently. 2018. The success of the song is a big turning point marking K-ICM officially entering the path of artistic activities as a real artist, paving the way for the hit HIT series later.
After his success Sad, K-ICM decided to learn more about electronic music to combine electronic music and traditional Vietnamese instruments, and at the same time, he released the song I used to. On the occasion of K-ICM's 19th birthday, a seriously invested product called "3 Go (Go. Go. Go)" was introduced to the audience with a breakthrough when using some Vietnamese ethnic musical instruments. Male. Not only bringing a unique combination to serve the domestic audience, K-ICM shares "the desire to bring Vietnamese national musical instruments to the world and be called Vietnam EDM", this direction is widely appreciated. Island fans support.
The perfect combination between K-ICM and Jack
K-ICM known Jack When he was active in group J3 in Soc Trang, he was impressed when he heard Jack's song About You, but it was only when he heard Hong Nhan that K-ICM decided to send a message to get permission to remix the song. After meeting for the first time in Soc Trang, finding harmony and harmony in music, the two "break the island" of Vpop with the remake of Hong Nhan, the hit Bac Phan and Sao Em accidentally.
With the ingenious combination of Guitar, EDM drums, traditional instruments and Jack's voice, the song "Bac Phan" quickly gained 300,000 views after only 2 hours of release. Amidst the EDM and ballad genres, which are so familiar in the current music market, a song containing a strange modern ethnic sound immediately attracts listeners. In particular, the key to Bo Phan's success is the easy-to-listen lyrics, familiar melodies, and a close and honest story. So, K-ICM went from a "Saint of Piano Player" to a professional Producer with a series of cult hits, and thanks to that, he gradually established his name in the hearts of fans.
After the victory of Hong Nhan, Bo Phan, K-ICM decided to produce a gentle ballad – Why did you accidentally. Capturing the audience's tastes, along with the talents of K-ICM and Jack, Sao Em accidentally quickly grabbed the top 11 trending YouTube trends after only 17 hours of release.
Not only has the talent for playing the guitar, mixing and arranging, K-ICM is also very smart when it comes to capturing tastes, as well as having its own unique musical strategies. In the midst of a vibrant Vietnamese underground world, K-ICM and Jack have created a separate territory and always keep the audience hooked with their new music projects.
After the success of Bo Phan, K-ICM and Jack continued to storm with the hit "Waves of Wind" with very interesting revelations, expected to be released on July 12, 2019 on the occasion of K-ICM's birthday. , is also the MV marking the return of the couple K-ICM and Jack after Sao Em accidentally. With the teaser information, fans are extremely eager, waiting and constantly wondering whether Wind Wave will continue the colors of Hong Nhan, Bac Phan or will it change to Hip hop style? All will be answered on July 12th, definitely K-ICM and Jack will not disappoint you!
Not to disappoint the fans, just released Waves of the Wind immediately reached 185,000 views, ranking Vpop after Give it to me (singer Son Tung – MTP). Not only that, Wind wave is also the #1 trending YouTube for a long time. Not cooling down yet, the duo K-ICM and Jack continued to tease the short film Waves of the Wind – Ending. This time, the duo's product officially broke a record with a YouTube premiere of more than 677,000 viewers.
Late at night on October 21, Jack and K-ICM's song "What's my dear" suddenly climbed to the top 1 trending youtube after 2 weeks of release and remained silent on BHX, now it has returned and sat at the highest rank.
Scandal between K-ICM, adoptive mother and Jack
The scandal between Jack and K-ICM's management company is currently the most searched keyword on Vietnamese social networks in 2019. A series of "secret history" details have been revealed, making the public not only have the opportunity. "Vocabulary" but also "sniff" drama.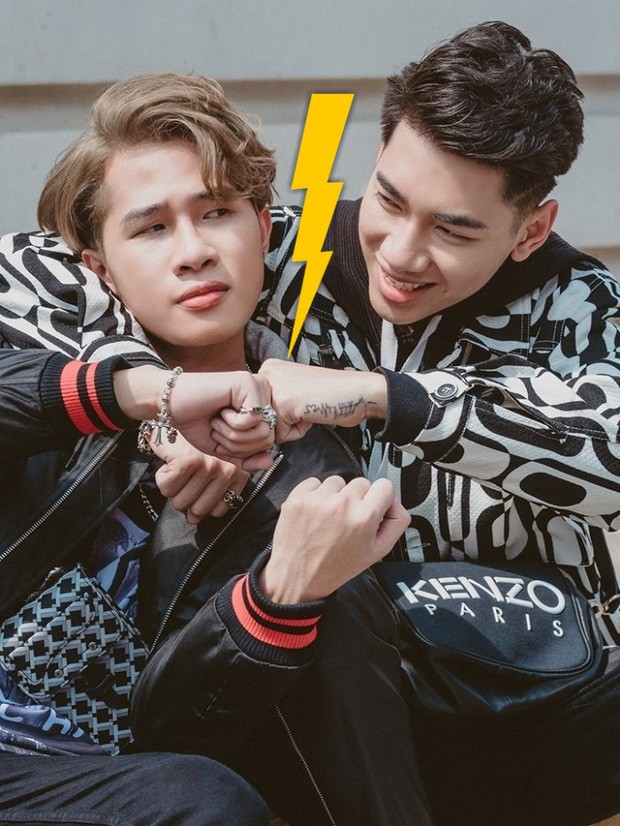 Recently, Jack's fans continue to release a series of photos that are said to be evidence that K-ICM's adoptive mother and manager staged a scene to smear the male singer's honor.
According to netizens, a guy with a similar appearance to Jack was hired to pose as a male singer and entered a hotel with a strange girl. The powerful team followed with the task of recording clips, taking photos and posting them on social networks with the aim of accusing Jack of playing debauchery. However, because the members of the crew were sick and liked to "live virtual", the behind-the-scenes image of this set-up was discovered by FC Jack.
The group of people who want to clarify the details of the scandal to protect Jack, an account has released the above series of photos and said that if they don't see the behind-the-scenes photo, this person and netizens will be deceived: "Almost got cheated. fooled by their script, everyone."
Not stopping, the two characters who had worked with the company ICM urgently denounced K-ICM for stealing blatant gray matter.
Specifically, through the introduction of a mutual friend, Duy Khiem and Jang Nguyen – the two authors of the song I love you go were colleagues working under ICM with K-ICM. However, when the scandal between the company and Jack broke out, these two people re-searched the copyright registration paper, only to be shocked to discover the name of K-ICM – who was only in charge of the mixing part, was in charge. the first line, then Duy Khiem and Jang Nguyen.
In the information about the song on online music sites, K-ICM automatically becomes the exclusive author of this song, even if you look tired, you can't find the "original" name. Before the act of "robbing on the loofah", raising his hand blatantly, the original author of "I Love You" expressed his anger and affirmed that ICM company did not respect the moral rights as in the signed contract.
The current social network has appeared countless posts confirming that Dat G – the owner of the hit Buon Cua Anh is also a victim of the ICM company. Accordingly, "His Sadness" was composed by Dat G and the arrangement also included producer Masew, but many times the public heard K-ICM introduce this hit as his "son". .
This is only one-way information from netizens, K-ICM's mother and daughter have not yet commented or explained anything related to the above series of photos and previous details in the scandal with Jack.
On December 24, the mother and daughter's agency, K-ICM, took a remarkable action to remove Jack's name and image from the list of artists under the management company. This is considered a move to end all feelings and relationships so far with Jack. After Jack's name and image were deleted, on the company's homepage, artists remained: K-ICM (Bao Khanh), Q-ICM (Tran Dang Quang), T-ICM (My Trang), Kelsey ICM (Ngoc Thuan).
In the past few days, the scandal between Jack and K-ICM mother and daughter broke out causing a stir in public opinion. The incident stemmed from an article from FC Jack administrator. This person accused the mother and son of K-ICM of exploiting the male singer's labor by forcing him to run shows and make music continuously, leaving him exhausted and hospitalized. Not only that, they also keep his salary and strictly manage his private life.
Currently, Jack is hospitalized and given water, causing many seniors in the profession and fans to mourn. However, the male singer still showed his determination to do everything after his health recovered to demand justice and freedom for himself and his fans.

Recently, a fanpage pointed out the injustices that Jack will face after leaving the "arms" of K-ICM mother and daughter. Specifically, Jack may lose all the money he earned from the day he joined the company, lose the right to manage the media (fanpage, Youtube, FC group), not be able to perform songs made by himself. I composed while working in the company.
On the first day of joining the management company of mother and son K-ICM, Jack was a rookie of the Vietnamese music industry. Therefore, he does not have much experience in reviewing the terms of the contract with the management company. All payment documents are not clear and transparent. Up to now, Jack has only been paid by the company for more than 200 million VND. Meanwhile, his schedule is dense, each show has a salary ranging from 50 to 250 million VND. Not to mention, there are shows Jack participates in are of big brands. Before his immaturity in the early days of entering showbiz, Jack was in danger of losing all of the money he brought back to K-ICM's mother and daughter because of loose contract terms, expired and did not renew.
From the day the Jack and K-ICM scandal appeared, Jack lost his administrative rights in his fan group, becoming a "commoner". Due to fear of anger from Jack's admirers, Jack was again promoted to censor. Currently, the administrators in the FC Jack group are all on the side of K-ICM's adoptive mother.
Jack's official fanpage owns nearly 1 million followers, held by his adoptive mother and manager of K-ICM. Of course, when Jack leaves the company, he will probably be "kicked" off this page. Jack's Youtube channel is also owned by ICM company. If not sued, Jack can hardly claim this Youtube channel back.
All songs composed and performed by Jack so far are copyrighted under the company name ICM. When leaving the management company, Jack may not be allowed by K-ICM's adoptive mother to use all the songs composed by the male singer so far to perform on stage.